Acharya, Munjal, Ph.D.
Section 1
Munjal Acharya, Ph.D.
Assistant Professor
Biography
Munjal Acharya has been working the field of regenerative medicine and cancer therapy- induced brain injury for the past ten years. Dr. Acharya has uncovered glia-dependent pathophysiological mechanism of radiation-induced cognitive dysfunction. In addition, Dr. Acharya has developed human stem cell-based regenerative strategies to remediate brain from the unintended side-effects of cancer therapies including cranial irradiation and chemotherapy. His research has delineated paracrine mechanism (exosomes) of stem cell transplantation- mediated recovery of the injured brain.
Dr. Acharya received his Ph.D. degree in neurochemistry from M. S. University of Baroda (India). His interests in neuroscience continued as a postdoctoral researcher at Duke University Medical Center (US) to study the efficacy of stem cell grafting to treat epilepsy. Dr. Acharya then joined University of California Irvine as a CIRM postdoctoral fellow. Currently, Dr. Acharya's laboratory studies molecular and cellular mechanisms of cancer therapy-induced brain injury, regenerative therapies for Alzheimer's disease and HIV-associated neurocognitive disorders.
Research in Lay Terms
The focus of my laboratory's research is to define the molecular and cellular mechanisms that glial signaling response following cancer therapy-related brain injury, Alzheimer's disease and HIV-related cognitive impairments.
Publications
AlaghbandY, Cheeks CN, Allen BD, Montay-Gruel P, Doan N-L, Petit B, Jorge PG, Giedzinski E, Acharya MM, Vozenin M-C, Limoli CL. Neuroprotection of Radiosensitive Juvenile Mice by Ultra-High Dose Rate FLASH Irradiation. Cancers (Basel). 2020 Jun 24; 12(6):E1671. doi: 10.3390/cancers12061671. PMID: 32599789.
Allen BD, Syage AR, Maroso M, Baddour AAD, Luong V, Minasyan H, Giedzinski E, West BL, Soltesz I, Limoli CL, Baulch JE, Acharya MM. Mitigation of helium irradiation-induced brain injury by microglia depletion. J. Neuroinflammation 17 (159), 2020. https://doi.org/10.1186/s12974-020-01790-9 PMID: 32429943.
Presentations
Acharya, M. M. Attenuation of neuroinflammation reverses chemotherapy-induced cognitive impairments. International Caner Cognition Task Force (ICCTF) biennieal meeting, Denver, Colorado, Feb. 2020. Abstract peer-reviewed and selected for the talk.
Grants
Stem cell research center pilot award (UCI) Stem cell-derived exosomes to mitigate Alzheimer's disease neuropathology.
Role: PI
ICTS Pilot project (NIH NCATS) award, Targeting complement signaling in low grade glioma.
The objective of this pilot study is to characterize the effect of complement receptor inhibitors on a low-grade glioma using the acute (9 Gy) irradiation and mouse model.
Role: PI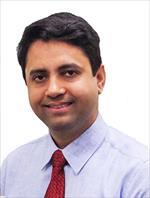 Email: macharya@uci.edu 
Phone: (949) 824-9183
Department Affiliations:
School of Medicine - Radiation Oncology